Home
» Profile
Company Profile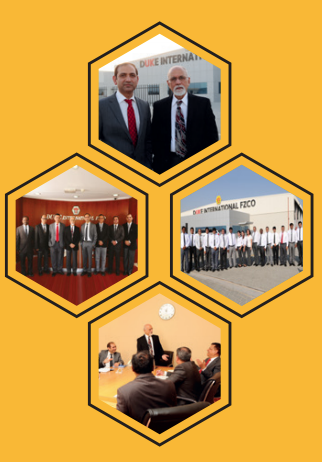 DUKE INTERNATIONAL FZCO is one of the largest and strongest suppliers of structural steel and building materials in the United Arab Emirates and the Middle East Markets. We cater to Fabricators, End Users in the Construction, Oil Field, Petrochemical, Maritime Industries and to Traders.
The founders of DUKE have been in business of steel in Oman since 1974. In 1994, Duke started its stock and trade hub in Sharjah under the name DUKE TRADING EST. In 2002, Duke started its operations in Dubai under the name DUKE STEEL TRADING Co. LLC
In 2004, Duke set up a large warehousing facility in Jebel Ali Free Zone housing a varied range of Long, Flat and other building material products to cater to avast customer base across the MENA Region.
Our extensive inventories and logistically located warehouses give us the ability to supply our wide product range at ease. We import structural steel from all over the world for both our stock and for specific customer requirements.
Competitive pricing, excellent customer service, product expertise and quick deliveries are the factors that provide the foundation upon which the Company's success has been built.